barefoot shoes for kids - main colour - beige
Barefoot shoes for children are the best choice for the natural development of children's feet. They respect the natural anatomical shape of the foot and do not oppress the fingers that can work. The flexible sole makes it possible to perceive the surface we are walking on, perceive its unevenness and thus strengthen the foot. Barefoot footwear contributes to a healthier posture and overall more natural walking. In our offer, you can find children's barefoot shoes for summer, winter and all year round (year-round) or booties, slippers and slippers.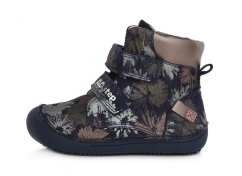 In stock
EU 26
EU 27
EU 28
EU 29
EU 30
EU 31
EUR 53,18
Lightweight all season shoes.